The big momma is In San Diego and is called Comic-Con. Our local version is called Planet Comicon and pales in comparison. But it's local and much cheaper to attend.
I have the pleasure of having built up an acquaintance with Don Rosa, a terrific author and artist of many Uncle Scrooge and Donald Duck stories. If you're an American you're probably thinking, "So what?" but if you're a European, your jaw probably dropped on the floor and you're drooling with jealousy. Don is the equivalent of a rock star over there, where they read enough Disney comics to make them the best-selling comic books in the world. Wacky, eh? And I'm not kidding—when Don does signings over there, the line stretches huge distances. He gets recognized frequently in the street. Here in the U.S. his line is never more than 2 deep.
Before the con I emailed Don and asked if I could give him a hand, and it turned out that my son, Calvin, and I were able to help out more than any of us expected. The way things worked out, it became very handy for Don to have us pick him up at the airport the day before the convention and drive him down to the convention center to help him set up.
Don is a really nice, down to earth guy, and he really felt like he was putting us out and taking advantage of us. We certainly didn't mind helping and thought it was a lot of fun. It turned out to be beneficial to all 3 of us in the end.
When we got to the convention center, it was Calvin's job to cut tape so Don could set up his booth without messing with that detail. My job was to sit around and do nothing, but I think all three of us enjoyed being able to talk during the two-hour set up process.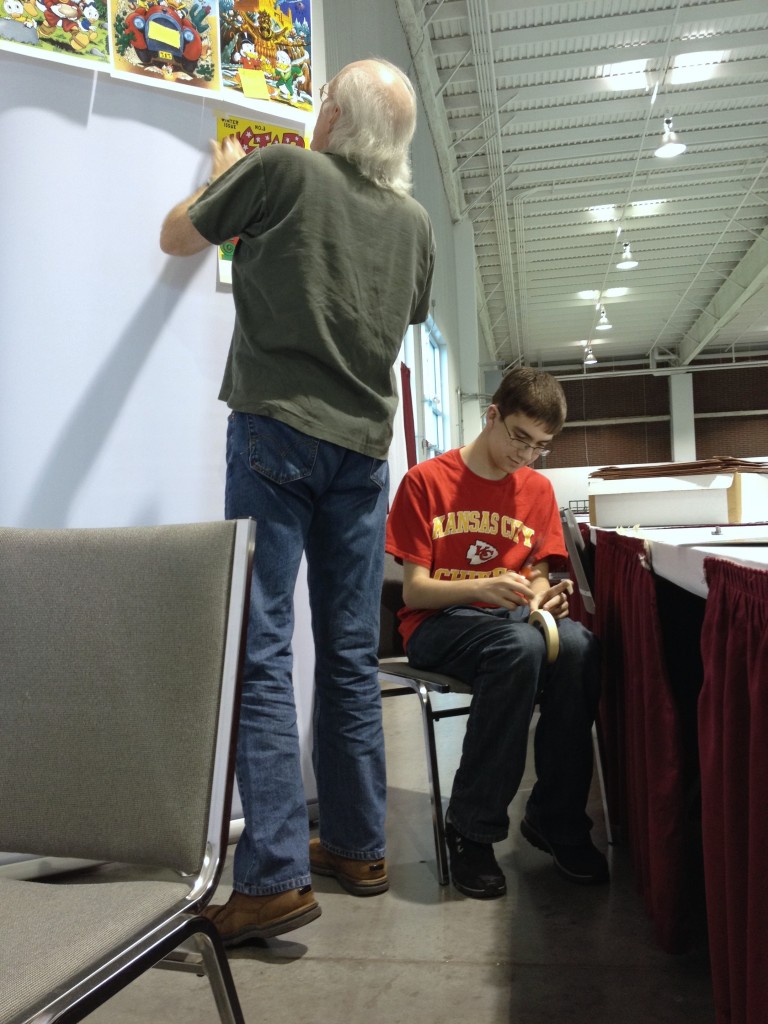 There was a long way to go for everyone before the show opened. It was interesting to see the chaos and all the work needed to be done less than 24 hours before the con opened.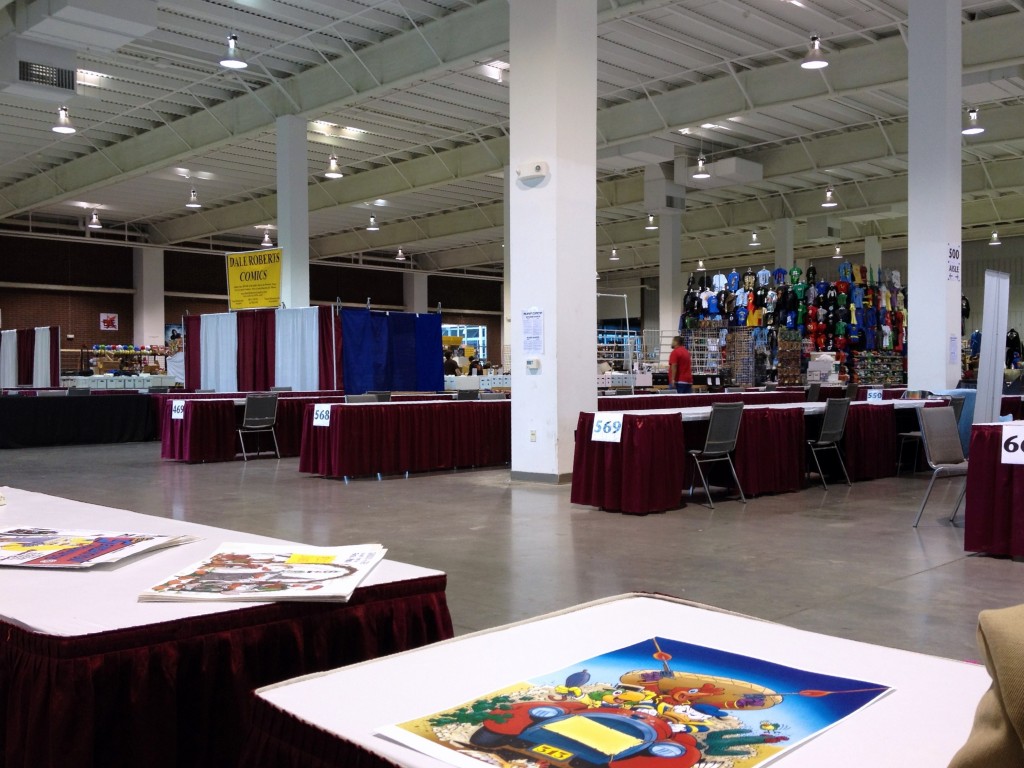 We finished helping and dropped Don off at his hotel.
The next day Calvin and I arrived at the convention center right around opening time and we discovered that Planet Comicon was a lot more popular than we expected this year. The parking lots were jammed. We had to park a good distance away. When we got to the front of the building we discovered an amazingly long line.
This looked like something we had seen at San Diego Comic-Con last year! Inside, the line was even nuttier.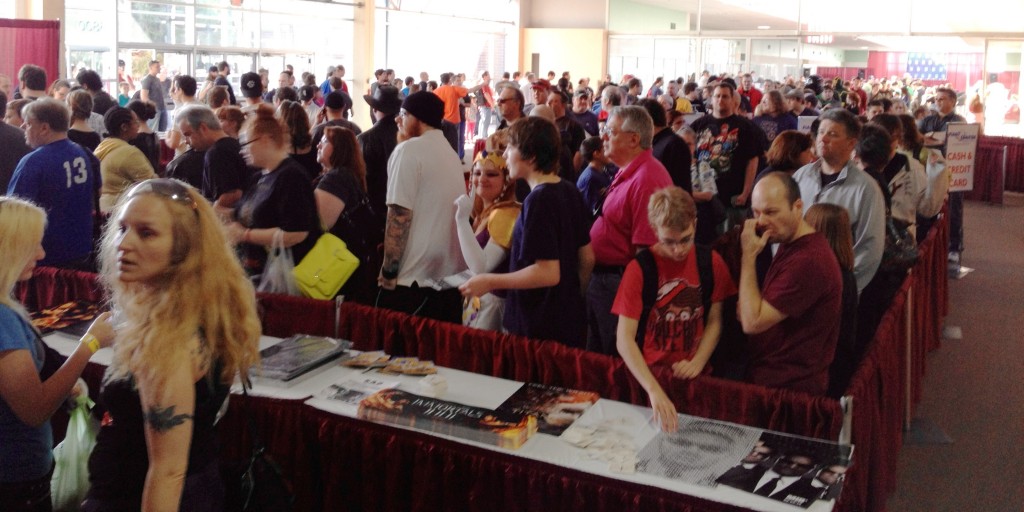 So here's where helping Don really paid off. When we arrived to set up the day before, the first thing Don did was obtain guest passes for us. With these passes around our neck we walked by everyone right into the exhibit hall. Thank you, Don!
The plan was that Calvin would sit with Don at his table to give him a hand. Don was insistent that he was self-sufficient and didn't need help, but Calvin really felt like he could contribute something and wanted to do what he could. It turned out Don was right.
Calvin still had a good time, but we all agreed that after lunch there wasn't much point to sitting back there anymore. Calvin joked that he helped the guy at the table next to Don more than Don, when he sat there as "guard" while the guy left for a bit. Wouldn't want anyone to mess with that actual outfit Kate Beckinsale wore in Underworld.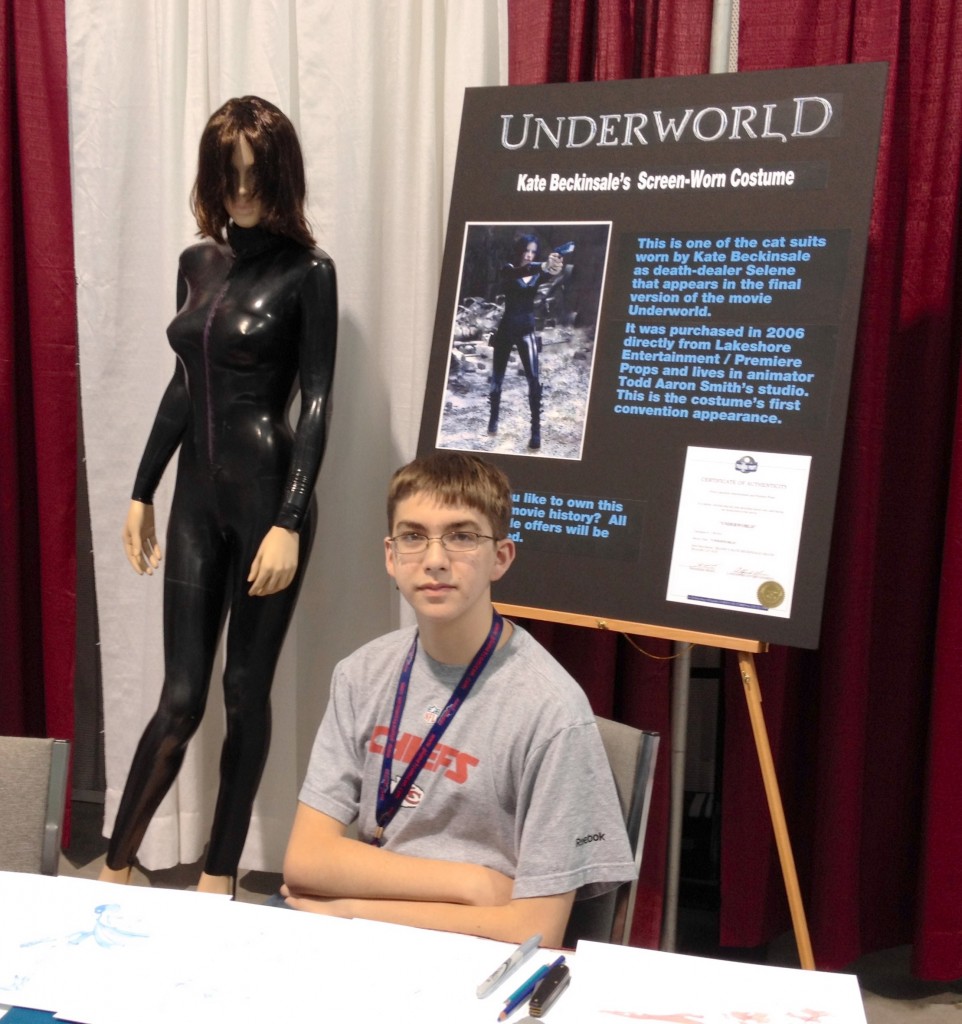 After lunch Calvin and I strolled the aisles and fought the crowds and had a good time. We caught Don without any customers at one point (thankfully, a somewhat rare event) and I showed him comics and a few other things on my iPad. He jokingly asked where the camera was, not expecting that it actually had one. So I took a picture of him with the iPad.
After that Calvin and I said goodbye to Don and went home. We will be back tomorrow with my 5-year-old who is extremely excited to meet Don for the first time and get a sketch from him.